CORE Electric Cooperative maintains an aggressive vegetation management program to minimize fire risk and outages. We work year-round to clear overhead distribution lines within our 5,000-square-mile service area and address member reports of hazardous vegetation.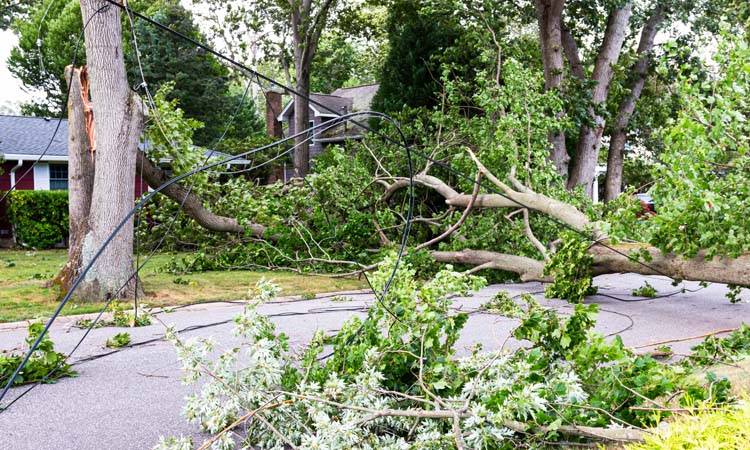 Please contact us immediately at (800) 332-9540 if you see a potentially hazardous tree or other vegetation that could threaten our power lines. We will assess the risk posed to our equipment and, if necessary, remove potentially hazardous vegetation at no cost to you.
Our vegetation management program is based on six-year cycles, the first of which we began in 2014 and completed at the end of 2019. Each circuit on our system is cleared at least once within each six-year cycle.
During that first full cycle, crews cleared all 5,000-plus miles of overhead distribution lines within our service territory at least once, reclaimed many areas and returned much of CORE's right-of-way to a more manageable baseline condition. This will increase efficiency as crews continue the new six-year cycle, which has already begun.
Now crews trim to a distance that will allow for six years of regrowth before trimming is required again. This typically means a clearance of 10 to 24 feet from CORE's lines, depending on the species of tree. Crews also follow standards that allow trees and other vegetation to remain healthy.
We have instituted mid-cycle inspections to identify trees growing into lines at faster-than-normal rates and unhealthy trees that pose a hazard if they were to fall toward our lines. We also perform more frequent inspections in areas known to have insects and diseases that affect tree health.
CORE will typically send a mailed notice if tree trimming is planned for your area and hang an additional notice on your door if vegetation on your property requires our maintenance. Work is typically performed 7 a.m. to 5 p.m. Monday through Thursday.
How you can help
CORE members can help us reduce the danger presented by vegetation:
Near overhead lines ...
Survey lines on or adjacent to your property and:
• Call our Utility Forester at (719) 412-2182 to report any vegetation that touches lines, transformers or other CORE equipment or facilities. Also report any vegetation that appears singed, browned or scorched by lines and equipment, even if it doesn't appear to be making contact at the time you report.
• Report any fully dead trees – those that are completely brown, have no leaves or are losing needles – or trees that appear to have rot and/or insects in them and appear to be tall enough to hit our lines and other equipment if they fall.
• Let us know about excessive vegetation around poles topped by transformers and other equipment so that we can clear it.
• Do not attempt to trim or clear vegetation near or touching CORE equipment. We will mitigate it free of charge.
When planting trees or other vegetation ...
• Locate shrubbery, trees and other features so that they will not grow to interfere with lines, transformers and other equipment.
• Do not plant any tree within the right-of-way surrounding overhead transmission lines, or any tree expected to grow beyond 10 feet within the right-of-way surrounding overhead distribution lines.
• Plant trees at least 20 feet from distribution and transmission poles and structures.
• No trees or shrubs should be planted within 10 feet of the front of underground equipment boxes, or 4 feet on other sides.