Pay My Bill
Click the button below to log into SmartHub and pay your bill. Note: You will need to create a new log-in and password for SmartHub.
Pay My Bill
One-Time/Guest Pay
Make a one-time or guest payment. You will need a valid account number and account holder name in order to make a payment.
Pay Now
Account services, including bill pay, stop service and other billing and payment options, are accessible through SmartHub. Click My Account Login at the upper right to access SmartHub, or download the SmartHub app for your iOS or Android device. Note: You will need to enroll in SmartHub to access your account.
How to Register in SmartHub
Important: To use SmartHub for the first time, you will need to enroll. On the login screen, select the "New User: Sign up to access our Self Service site" option, highlighted below.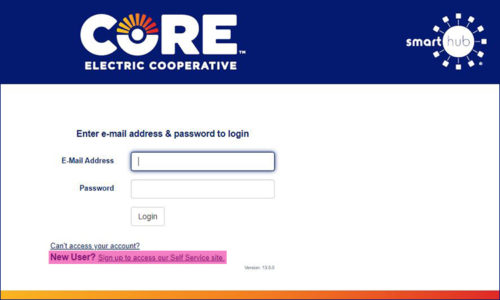 How to register via the app
Download the SmartHub app
You can also pay by phone 24/7 via our new automated number, (877) 704-2014. Our Call Center no longer accepts payments via phone.