What exactly does it take to become an apprentice?
Apprenticeship lays the groundwork for a career in line work at CORE and other electric utilities.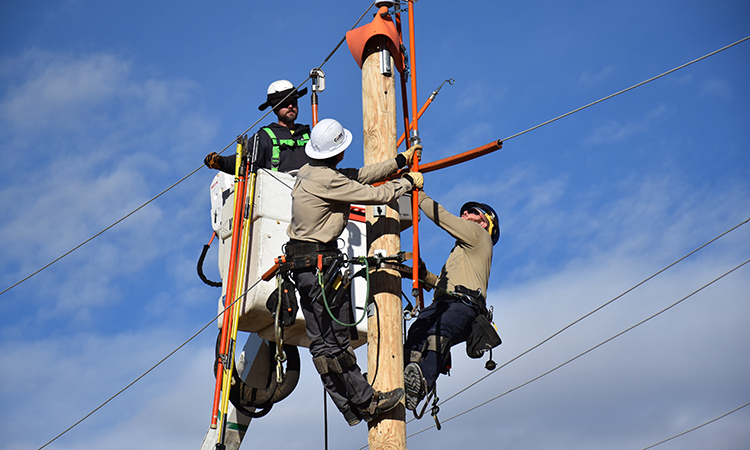 Most candidates successfully complete a pre-Apprentice line work program. These programs typically take anywhere between three months and one year, and teach the pre-Apprentice how to climb and the basics of electrical safety and theory.
Most apprenticeships, including those at CORE, require 7,500 hours – about four years – of paid on-the-job training (OJT). On top of bookwork, Apprentices learn through field and classroom sessions led by experienced Journeyman Linemen. Each year the material and tasks become more challenging to help the Apprentice develop proficiency. Accompanying tests require a score of at least 80%.
Upon completion of the required amount of hours within each designated category, 7,500 cumulative hours of paid training, and completion of all tests at 80% or higher, an Apprentice Lineman is eligible to take the final field (practical) test and final written test. Successful completion of both earns the designation of Journeyman Lineman.
The Apprenticeship program at CORE is an on-the-job training program with limited spaces available as we strive to keep our ratio of Journeyman Linemen to Apprentices at 4:1.
When an Apprentice position is open with CORE, it will be posted on our website just as any other job/employment opportunity. It is then opened to an application and interview process. The best applicant for the open position will be selected.
While it is not required, it is highly recommended that all Apprentice applicants complete a pre-apprenticeship or linework program before they apply for a position with CORE. With the number of applicants received for each posting and the limited number of job openings, it does tend to be an advantage.
While there are none specifically affiliated with CORE, here are a few options:
1. Northwest Lineman College (we currently use NLC's program for our book curriculum at CORE: https://lineman.edu/ 
2. Southeast Lineman Training Center: https://www.lineworker.com/
3. Western Colorado Community College: https://www.coloradomesa.edu/wccc/programs/lineworker.html
4. Trinidad State Rocky Mountain Lineman School: https://www.linemancentral.com/programs/trinidad-state-rocky-mountain-lineman-school
We also recommend that Apprentice applicants obtain a Class A CDL (Commercial Driver's License). All our Apprentices must have this within a few months of joining our program, so already having it is a plus.
Once hired, an Apprentice will go through a four-year program with CORE. Our program includes classroom training, book or online curriculum, and tests that must be passed with at least 80% for all four years. The Apprentice will also be training in the field with our Journeymen Linemen, Meter Technicians, and/or Substation Technicians, including on-call shifts.
CONTACT:
Alycia Mendez
Apprenticeship Program Administrator