Safeguarding you, our employees and the grid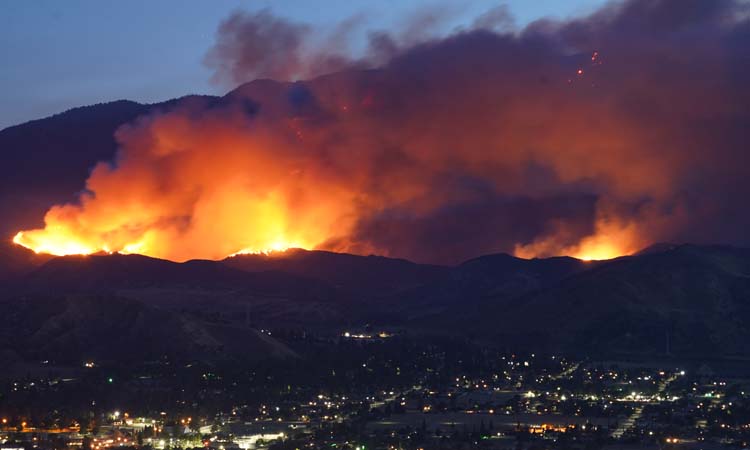 CORE is committed to mitigating the risk of wildfire to protect our members, employees and distribution system. We have implemented a comprehensive wildfire mitigation plan to reduce the risk of our equipment and facilities causing a wildfire. The plan is intended to safeguard you, our employees and the electric system upon which you rely now more than ever.
Updated standards increase reliability, 'harden' system
CORE continuously evaluates the design, equipment and construction standards of our system. We have updated those standards to both increase reliability in the system and "harden" it against wildfires.
Some of the standards we refined to reduce possible fire ignition and spread include:
Pole strength, so that poles can better withstand high wind and other weather conditions;
Increased spacing between conductors and shortened distances between poles to prevent different-phased lines from crossing;
Underground placement of new and upgraded equipment in high-risk fire areas, when practical;
Additional insulation of energized parts, so that birds and other animals cannot make contact and cause sparking;
Elimination of specific types of wire and equipment connections that may be more prone to fail; and
Replacement of some oil devices with devices that do not use oil.
New meters make system safer than ever
New meters installed as part of our advanced metering infrastructure (AMI) have surge protection built into their circuitry and materials to protect against fire. They also use capacitors instead of batteries, so there is no chemical process taking place within the meters.
Each new meter monitors temperature to help us detect bad electric connections, and technicians check for hot sockets – damaged or defective meter sockets that can cause heat building – and vegetation hazards around meter housings as they install them.
The manufacturer of our new meters has shipped more than 7 million meters with the same configuration as those we are installing, with no reports of meter-caused fires.
Improved situational awareness in operations
CORE has developed situational awareness tools that provide fire warnings, watches and forecasts for our service territory.
Most of these tools are driven by a geographic information system (GIS) that incorporates wildfire hazard potential maps generated by the U.S. Forest Service's Fire Modeling Institute overlaid with spatial data representing resources and assets such as power lines, structures and communities. Daily fire risk is also monitored through fire warnings and watches from the National Weather Service, near real-time fire alerts from NASA FIRMS satellites, and social media notifications from fire and police agencies in CORE's service area.
Our personnel can access this information to adapt CORE's daily operations, emergency preparedness and risk mitigation efforts to changes in fire conditions. It also allows us to conduct proactive and real-time operations that reduce the risk of fire ignition by our equipment, facilities and activity.
We have developed a system of operating conditions predicated upon each day's fire risk level:
Normal allows personnel to operate normally, with no required changes.
Elevated/Fire Weather Watch cautions crews and contractors to be mindful of elevated fire risk conditions and increase attention paid to situations in which a fire could be ignited.
Extreme or Red Flag Conditions require that most work on energized overhead lines be halted unless stopping work poses a greater risk. Work that must be completed is done with additional mitigation measures.
CORE has implemented more sensitive circuit protection settings that can be used during High Wind, Red Flag Warnings, or other elevated fire risk conditions. These settings allow the devices protecting the line to trip the instant there is a fault in the line, like if a tree were to fall into the powerlines. CORE Linemen then patrol the de-energized circuit to find and correct the cause of the outage before re-energizing the line. These settings reduce the risk of fuel ignition near CORE lines and equipment. Since these settings do not allow the equipment to self-restore power, there may be sustained outages instead of blinks while these are in use.
Robust inspection and maintenance
CORE performs inspections of most overhead distribution lines on a seven-year cycle. Main feeds and circuits within the areas of highest wildfire risk are inspected on a three-year cycle.
Most inspections are conducted by personnel visually examining facilities, though we increasingly uses infrared cameras and drones for this work. Inspectors look for a variety of possible issues, including broken or loose hardware, mechanical damage to components and uninsulated secondary conductors.
They also inspect the general condition of transformers, switches, conductors and other equipment and hardware that forms our system.
CORE field personnel already have replaced specific items such as hotline clamps, porcelain-fused cutouts and air-gap arresters at all high-risk locations within our service territory and will continue inspecting and replacing them as outages and other issues occur.
Our 5,000-plus miles of overhead lines are supported by more than 165,000 poles, almost all of which are wood. Wood poles less than 15 years old are inspected visually; all poles older than 15 years require both above- and below-ground inspections. They are prioritized, then reinforced, treated or replaced based on condition.
Most of our transmission lines, which carry power over longer distances, and transmission facilities are inspected on a three-year cycle. Higher-risk transmission facilities are inspected annually. Inspections typically are conducted via drone or helicopter and include video and/or photos of each structure; summaries of maintenance issues; and general reports regarding line segment condition, along with any recommendations for major maintenance or rebuild.
Technology, outreach and response
In addition to AMI, CORE is working to modernize other parts of our grid.
One option is a distribution automation system that provides real-time control and monitoring of switches, reclosers, capacitor banks and other distribution devices, and allows us to automatically reconfigure the system during periods of high fire risk. Another option is line sensor technology, which provides "line down" detection and quicker identification of faults. We also are evaluating non-expulsion equipment to be used in areas with high fire risk.
CORE works with towns, cities, counties and other municipalities we serve to improve emergency management and preparedness. Part of that preparedness is our Wildfire Response Procedure, which identifies roles and responsibilities, details actions to be taken and outlines communications protocols that will be put in place in the event of a wildfire.
All of us who live and work in fire-prone areas share responsibility to mitigate fire risks. CORE understands the need to act throughout the year, every year to help avoid fires.
Vegetation management protects lines, facilities
Our vegetation management program is based on six-year cycles, the first of which we began in 2014 and completed at the end of 2019. Each circuit on our system is cleared at least once within each six-year cycle.
During that first full cycle, crews cleared all 5,000-plus miles of overhead distribution lines within our service territory at least once, reclaimed many areas and returned much of CORE's right-of-way to a more manageable baseline condition. This will increase efficiency as crews continue the new six-year cycle, which has already begun.
Now crews trim to a distance that will allow for six years of regrowth before trimming is required again. This typically means a clearance of 10 to 24 feet from CORE's lines, depending on the species of tree. Crews also follow standards that allow trees and other vegetation to remain healthy.
Our updated wildfire mitigation plan adds emphasis to documenting and analyzing the species, condition and other characteristics of vegetation that cause outages on our system. Doing so helps us better identify areas of concern and more efficiently assign tree-trimming crews.
We have instituted mid-cycle inspections to identify trees growing into lines at faster-than-normal rates and unhealthy trees that pose a hazard if they were to fall toward our lines. We also perform more frequent inspections in areas known to have insects and diseases that affect tree health.
CORE addresses member reports of hazardous vegetation year-round, regardless of location or scheduled trimming cycle. Please contact us immediately at (800) 332-9540 if you see a potentially hazardous tree or other vegetation that could threaten our power lines or other equipment. We will fell potentially hazardous trees at no cost to you.
CORE will send a mailed notice if tree trimming is planned for your area and hang an additional notice on your door if vegetation on your property requires our maintenance. Work is typically performed 7 a.m. to 5 p.m. Monday through Thursday.
How you can help
CORE members can help us reduce the risk of fire through a few simple actions. We always will welcome reports of potential hazards, so do not hesitate to contact us with any concern.
If you are served by overhead lines, survey them from the meter to the edge of your property and:
Call our Utility Forester at (720) 733-5638 to report any vegetation that touches lines, transformers or other CORE equipment or facilities. Also report any vegetation that appears singed, browned or scorched by lines and equipment, even if it doesn't appear to be making contact at the time you report.
Report any fully dead trees – those that are completely brown, have no leaves or are losing needles – or trees that appear to have rot and/or insects in them and appear to be tall enough to hit our lines and other equipment if they fall.
Let us know about excessive vegetation around poles topped by transformers so that we can clear it.
Do not attempt to trim or clear vegetation near or touching CORE equipment. We will mitigate it free of charge.If you plan to plant any trees or other vegetation:
Locate shrubbery, trees and other features so that they will not grow to interfere with lines, transformers and other equipment.
Do not plant any tree expected to grow taller than 15 feet within the right-of-way surrounding overhead transmission lines, or any tree expected to grow beyond 10 feet within the right-of-way surrounding overhead distribution lines.
Plant trees at least 20 feet from distribution and transmission poles and structures.
No trees or shrubs should be planted within 10 feet of the front of underground equipment boxes, or 4 feet on other sides.
Additional guidelines for planting vegetation in or near CORE's right-of-way and facilities are available here.